Touted as the smart economy of the next generation, NEO has gained steam in 2017 with its explosive growth. Cryptocurrency enthusiasts like to call it the 'Chinese Ethereum' thanks to its similar working. However, when it comes to NEO, the currency is the part of a larger plan to create a universal blockchain.
NEO has shown staggering volatility in the past few months and experienced rising investor interest as well. Backed by its sister concern OnCoin, this currency now the 10th largest by market capitalization. It started the year at a price of $0.14 and now has a stabilized price of $25 with the highs going around $37 and beyond. GAS valuation has been up to $29 after an initial valuation of $1.78 in July this year.
Some experts have even called NEO 'the cryptocurrency of the year' because of its great rise from pennies to registering a mind-blowing 400% increase.
So, what is NEO and why should you care?
NEO is a Chinese cryptocurrency that has been working on an Ethereum-like model to provide more proof of stake to the users. It has two tokens, NEO, and GAS. Both can be traded in with equal ease. The only catch here is that the users can derive extra coins and value in the form of GAS simply owing to their ownership of NEO tokens.
The rise of this currency has made some experts call it an 'Ethereum killer.' The currency works on smart contracts but has an upgraded proof of stake system in the form or GAS. Additionally, NEO works on multiple languages while Ethereum works on a proprietary language. Moreover, Ethereum has a few loopholes which make it more vulnerable to hackers as compared to NEO.
Mining is your game? This post on Bitcoin Mining websites will surely help you!
NEO was formerly known as Antshares and GAS was called Antcoins. The rebranding has helped the currency in launching itself higher than ever. Though NEO is completely new, it has worked on a promising framework which makes the investors hopeful about its great future, especially in 2018.
NEO and GAS present two sides of the same coin. NEO remains indivisible and is always available in the multiples of 1. However, GAS brings more flexibility to the framework. This can be used in fractions, which means that the potential for the expansion of this currency is quite high. 50 million of the currency tokens have been distributed while 50 million remain reserved for various purposes. Out of these, 15 million tokens have been reserved for future contingencies. This gives you a more planned approach to what the future of the currency.
Exchanges, on the other hand, may let you trade in NEO infractions. This will make you lose when you are sending money to your actual NEO wallet. As we said above, NEO is indivisible. So, you will either have 1 NEO or 2 NEO. Nothing in between. Exchanges can sometimes let you trade with 1.20 NEO when trading with Bitcoin or other coins. However, when you want to transfer it to your real NEO wallet, you will only get 1 NEO. The value of 0.20 NEO will be lost in the process.
The decoupling of the value of NEO and GAS is what makes NEO such an interesting cryptocurrency. It could be very difficult to buy GAS outside of China as of now. However, you could start generating GAS on your NEO holding which could then in used as a transaction fee. In Bitcoin, you can mine the coins in a similar process. However, the value of the mined and the purchased bitcoin remains the same. Here, these two remain very different because of which NEO has some potential for a curious investor. Note that you can't use NEO like bitcoin in the real-world situations as of now.
However, there are a few problems with NEO that need to be addressed. There is a lack of some basic infrastructure when it comes to this currency, which includes the wide availability of wallets across the world.
This hasn't been a major setback for the cryptocurrency. Currently, there are three official wallets offered by the developers themselves for varying skills sets. There is a GUI wallet, a standard NEO Wallet and even a CLI wallet which is meant to be used only by advanced users.
Top 10 Best NEO Wallets
If you are interested in trading in NEO and its GAS tokens, here are the top 10 best NEO wallets that you should be using.
#1 NEON wallet
This developer approved wallet comes from the City of Zion and is quite a popular way to buy, sell, and store NEO. This desktop wallet provides more security to the users as the private keys are stored only on the desktop application. The NEON servers do not hold your private keys which signals relief to the users who are not comfortable with its single blockchain functioning.
Another important thing to note about the NEON wallet is that it is a 'light wallet.' You can save processing time while using the application as it interacts with the blockchain directly and doesn't hold any local data. Hence, all orders are processed very quickly, and there are lesser costs involved as well. The only problem here is that you will be using a remote blockchain which carries all the information instead of the local app.
You can trade with both NEO and GAS on this wallet. For NEO blocks held in the blockchain, some amount of GAS is automatically generated for your account. It works well on Linux, Windows, and Mac.
#2 Ledger Nano S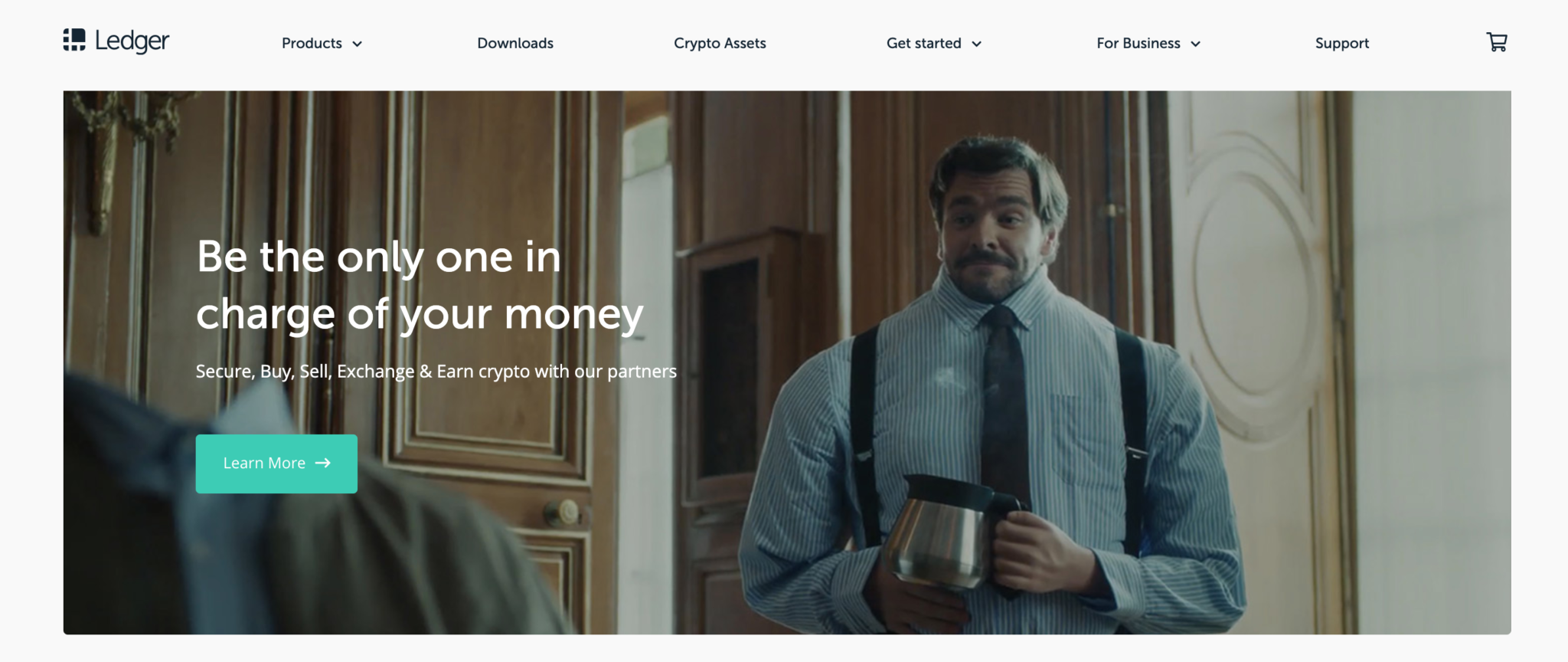 Hardware wallets are a rage amongst many cryptocurrency enthusiasts, and their most popular choice is the Ledger Nano S. The wallet has recently added NEO to their list of supported currencies. However, this does not mean that there are any flaws in this hardware wallet. The best thing about this wallet is its collaboration with NEON. Because it is stored on hardware, it is clearly the most secure NEO currency wallet around.
Check out Ledger Nano S Wallet
#3 Ansy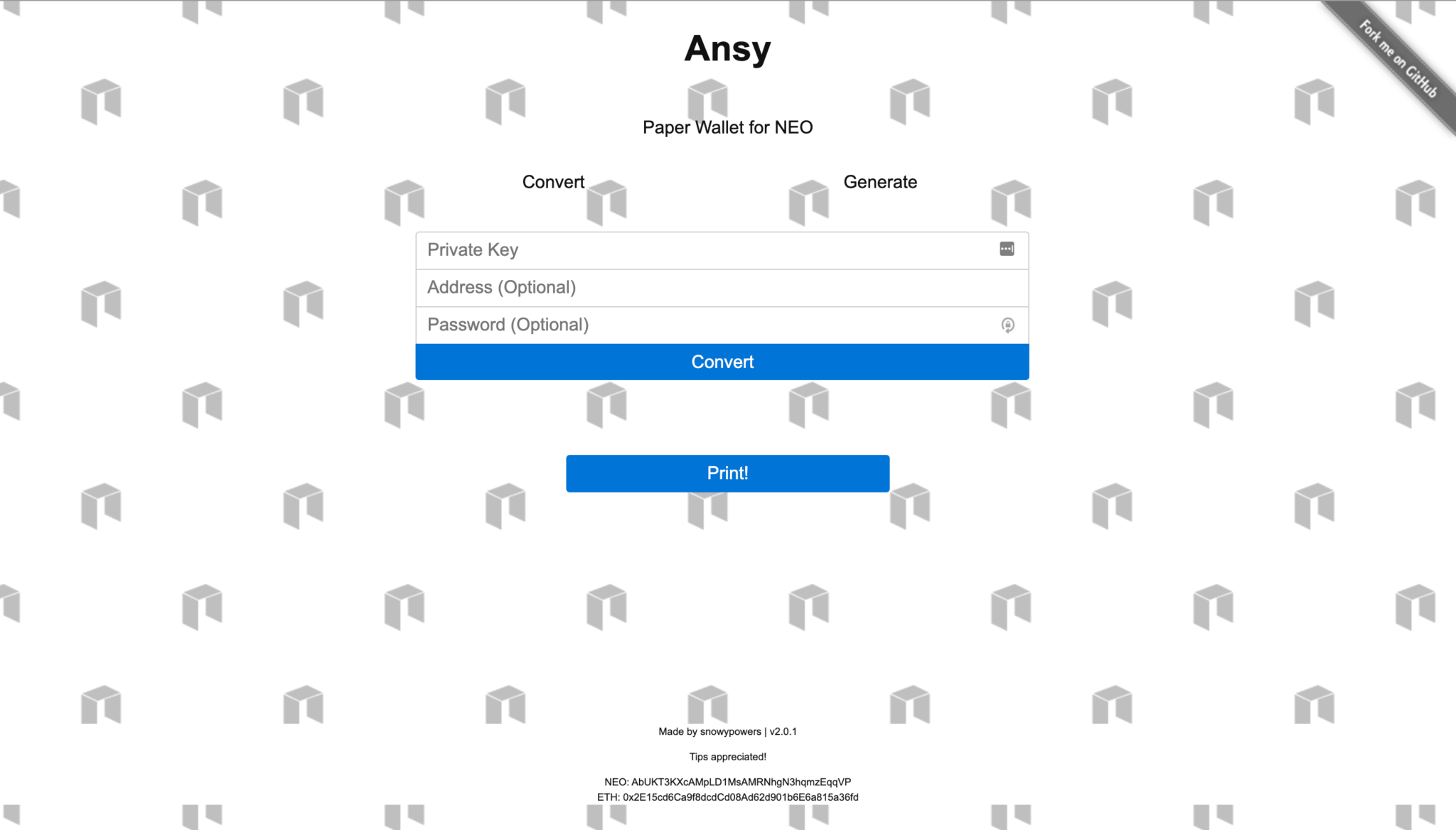 Paper wallets are also a new but exciting addition to the world of cryptocurrency. Paper wallets work like passkeys for the users. They have a public address coupled with a private key that is printed on a piece of paper. A QR code is used to access this currency. Ansy is a popular paper wallet that can be used for storing NEO. As you are not connected to the internet, the chances of your keys being stolen by hackers are next to negligible. However, keys need to be stored like cash. Once you lose them, they can be misused.
The utility of Ansy comes with spending your NEO or GAS currencies. The cold storage of these tokens helps you in spending easily, even when you don't have internet access. QR codes simplify the payment process, and you are much better off than using wallets on the desktop or the browser. Note that GAS coins will not be generated for people holding their NEO tokens in Ansy. This is one downside that comes along with this wallet. These paper wallets can be downloaded easily.
#4 NEO Tracker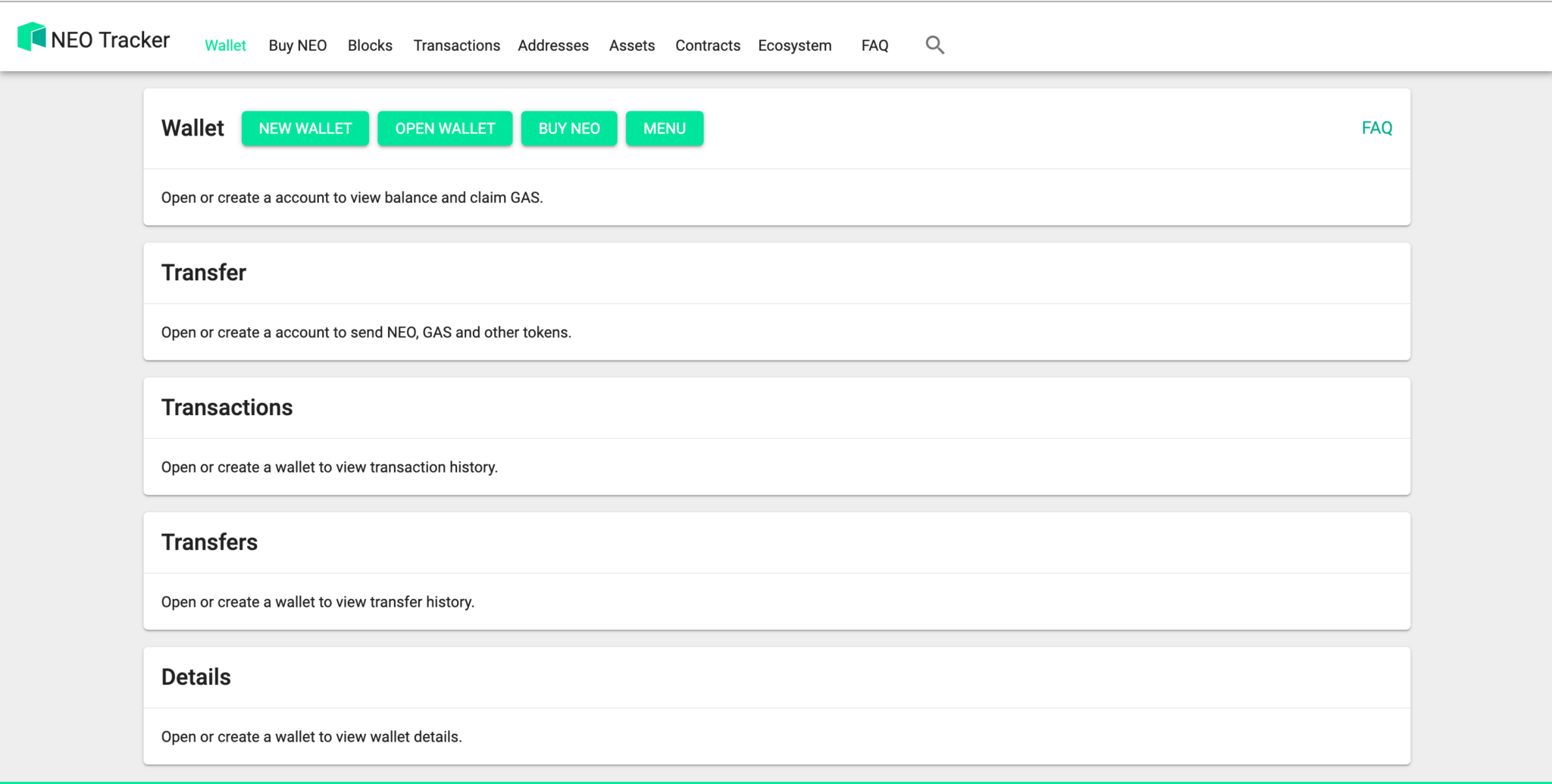 NEO Tracker is another 'light wallet' which helps users in accessing the NEO blockchain directly on the browser. However, this isn't an online wallet. It allows the browser to store all the necessary information for processing your transactions offline. The wallet servers do not hold any information. This helps in the quick processing of transactions as well and adds extra security for the skeptical users. Another important thing to note about the NEO Tracker is that it allows you to claim GAS generated because of their NEO holdings, just like NEON. It also allows the user to print own paper wallets.
#5 NEO Wallet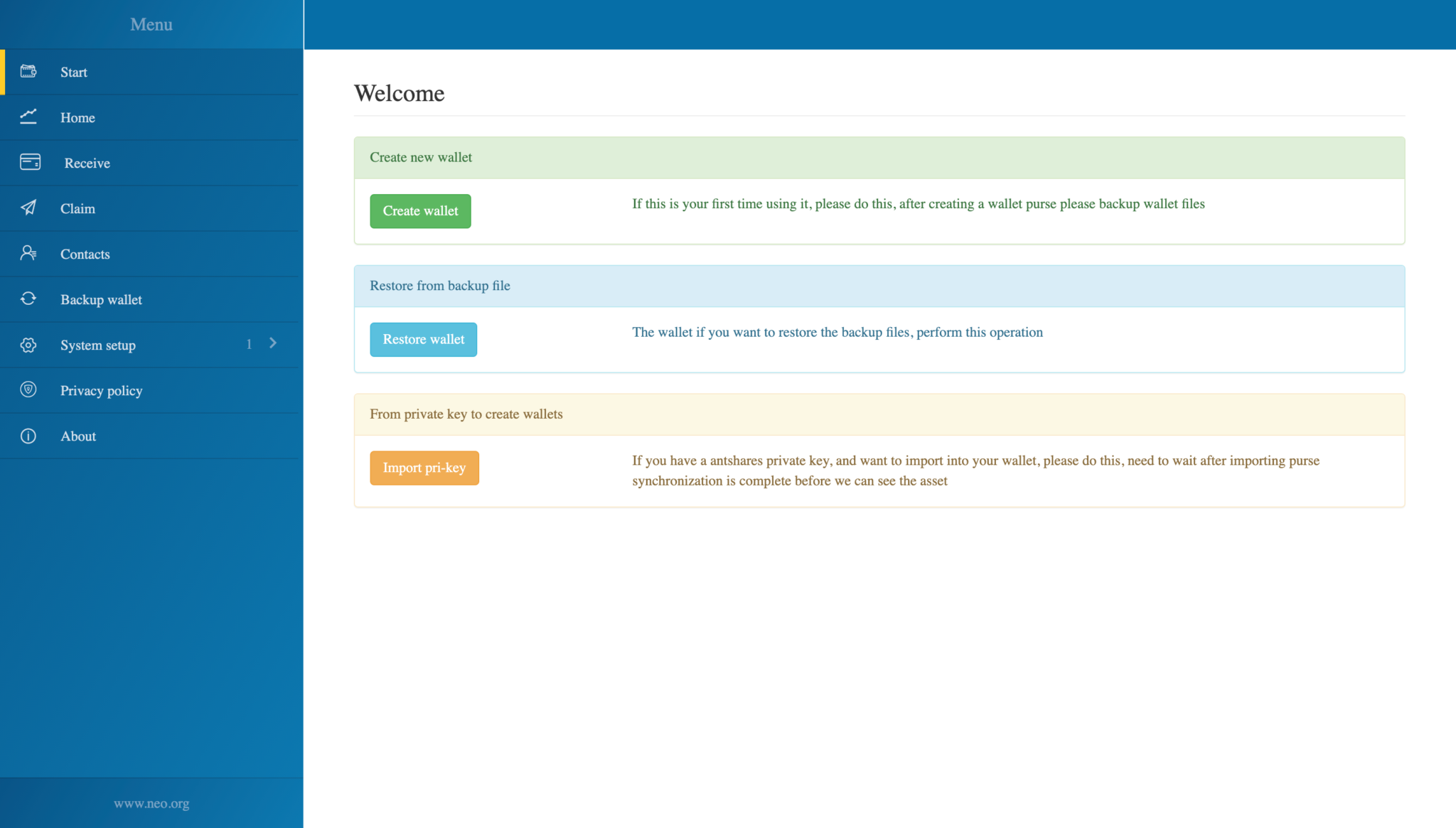 This is the official wallet developed by the makers of NEO and GAS. The NEO community development team manages this API based light wallet. All the messages on this wallet are encrypted which adds an extra layer of security to your transactions. The wallet works offline which means no keys are uploaded to the NEO server, and you can safeguard your privacy. It also allows you to claim GAS for your NEO holdings.
#6 NEO GUI
This is another desktop wallet, and it was made by NEO developers only. The GUI in the wallet stands for graphical user interface which allows you to synchronize your wallet with the entire NEO blockchain. Though this synchronization may take up some time and processing ability of your computer, it can help you create a new wallet with a backup. A HEX or WIF format private key is used to create backups for your wallet which provides added protection to the users. It also allows GAS generation for your NEO holdings. However, the wallet is only supported for Windows 7 and above.
#7 NEO CLI wallet
Made by NEO developers only, the NEO CLI is also a desktop wallet. However, the only difference between this and NEO GUI is the intended use case. The GUI can be used by anyone for buying, selling or spending NEO and generating GAS. However, the NEO CLI works only on command line prompts and is intended to be used only by advanced users. It allows you to buy, sell, or store your NEO and GAS tokens. Additionally, it provides you GAS generation for your NEO holdings as well.
#8 NEOWallet
The confusion between NEO Wallet and NEOWallet never seems to end. However, we need to understand the basic differences between the two. The NEO Wallet is designed by the team behind NEO blockchains and is touted as the official wallet for the currency. However, the NEOWallet is an open source and independent project developed by OnCoin. It is important to note that NEO and OnCoin are sister concerns. However, both have their own wallets for the currency with confusing names.
NeoWallet is also an offline wallet that does not allow the server to store your private keys. This makes it secure for transactions as well. You can use both NEO and GAS in these wallets, and you will also be able to claim GAS in your wallet account. The wallet is available in Chinese and English.
#9 Morpheus Wallet
Morpheus calls itself an all-in-one blockchain asset management solution. You can create a new address, and all of your information remains private and confidential. The wallet comes with live and interactive charts as well. The wallet allows you to send and receive your GAS and NEO tokens with ease. You can also use this wallet to claim gas. The wallet is currently in beta but has gained a lot of positive press recently for its security features.
The wallet is available on GitHub for download, and it would take some time to be available publicly. However, beta testers claim that it is a very simple to use this wallet with an extremely easy UI. The beta app is available for Mac and Windows. Linux will also be added soon, and hopefully, the wallet will go live in early 2018 or earlier.
#10 Binance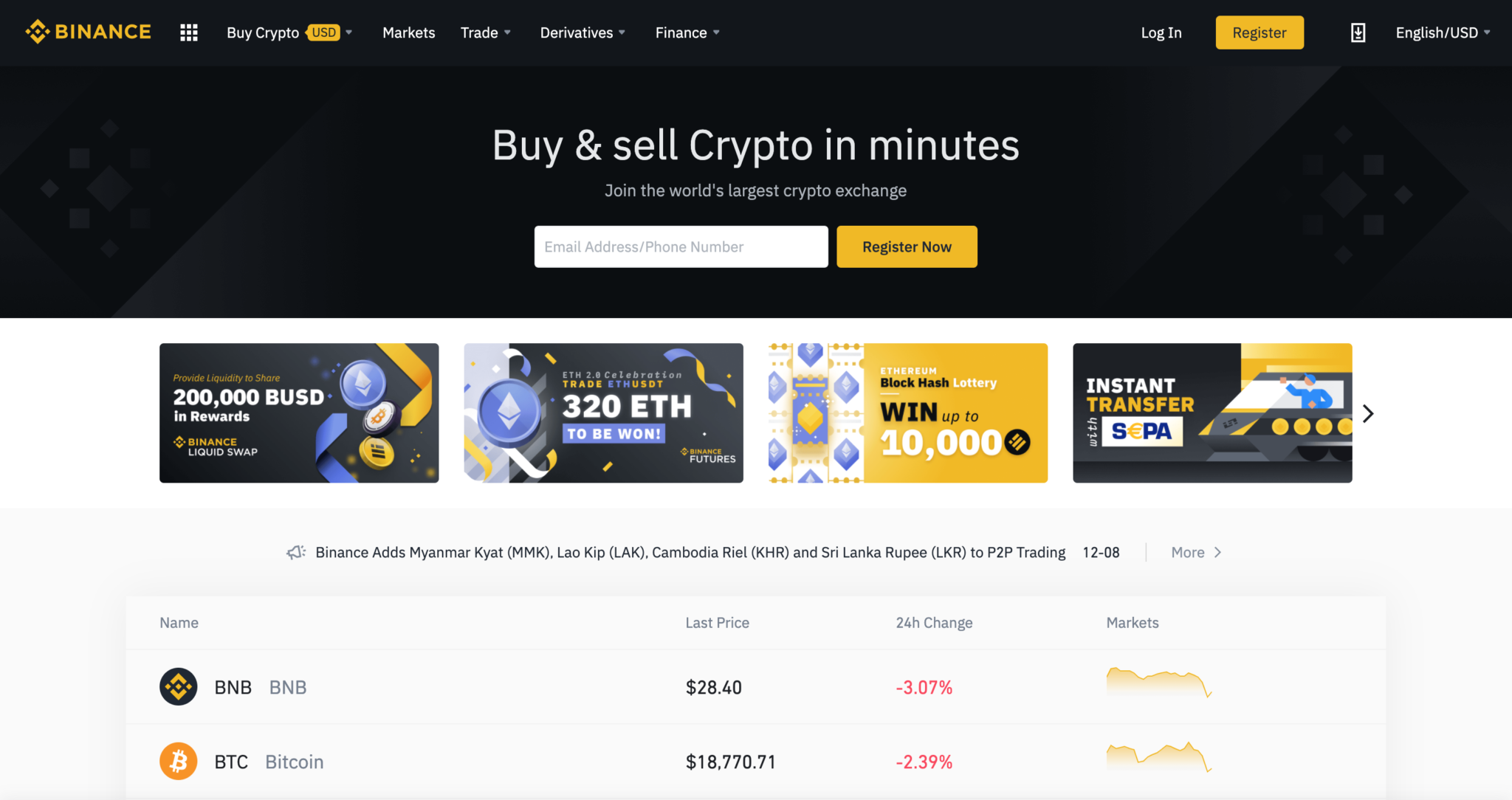 While Binance is not really a wallet, it can give you GAS for your NEO holdings. Most coin exchanges do not let you accumulate GAS for your NEO holdings. Some of them are even notorious for holding on to the GAS for themselves while letting you move out your NEO tokens. However, things are different with Binance. This international exchange was the first one to offer you GAS token accumulation. It rolls out GAS to NEO holders on a monthly basis, depending on the time and amount of NEO you are holding.
Let's wrap up
This post is about best neo wallet for the year 2019-20. If you are trading in NEO/BTC and would like to earn some GAS while still looking for a way to make a great cryptocurrency exchange, Binance is the right place for you to start. Note that apart from the GAS token accumulation feature, you have nothing in common with other NEO wallets that allow you to send and receive or spend your tokens. This platform is only for trading which a positive twist.
NEO is a simple and new ways of getting cryptocurrency. The wallets for NEO are also exceedingly simple, making it very easy for users to trade. Considering the potential of this currency, it is highly likely that its explosive growth will continue for years to come.